Announcement
The Ministry of Economy, Trade and Industry of Japan Selects CIC and MassChallenge to Create and Operate an Entrepreneur Development Program for Japanese Startups
Recruitment for the new program is open through July 5th, 2023
TOKYO & BOSTON – June 12, 2023 – CIC, the global leader in building and operating innovation campuses, in collaboration with MassChallenge, a global network for innovators, has been selected by Japan's Ministry of Economy, Trade and Industry (METI) to create and operate a startup accelerator program for Japanese entrepreneurs focused on growing their businesses globally.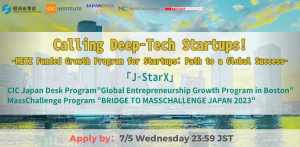 This program is designed for startups focused on robotics and cleantech who are interested in entering the global market, raising funds, and expanding their network. This project will be executed through CIC Japan Desk and CIC Institute, combining the unique expertise of two CIC business units to create and operate custom programming in collaboration with MassChallenge. 
"Since the launch in 2020, CIC Tokyo has become Japan's largest innovation center and a leading base camp for deep tech startups. We're proud to partner with METI and continue to be a bridge between Tokyo and Boston that enables Japanese startups to succeed on the global stage," said Tak Umezawa, CIC Japan Chairperson. 
Kicking off in mid-August, the five month program includes three dedicated paths that will combine virtual and in person experiences in Boston and Tokyo, and offer distinct programming as well as opportunities for cross-cohort collaboration and networking. 
【Application Form】
Please apply from the online form below.
CIC Japan DeskCambridge Program (GEGP)
MassChallenge Program (B2MC)
Find the "Apply Here" link here 
Full Press Release can be found here.