Announcement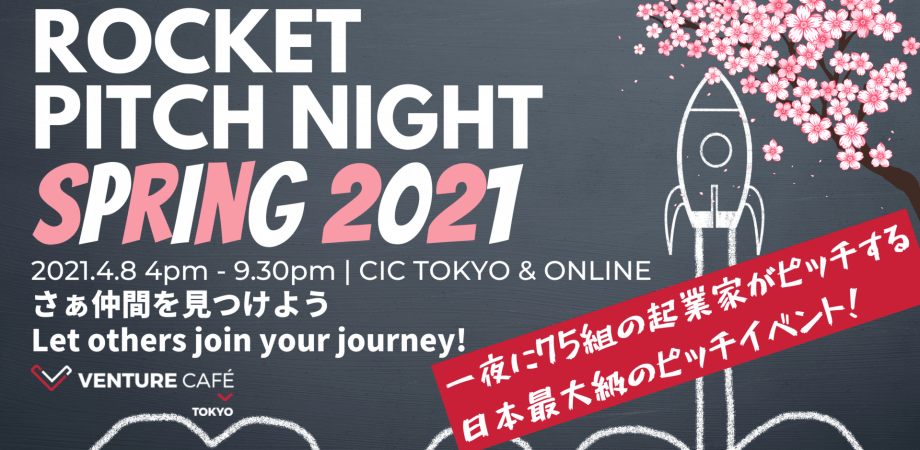 On April 8, CIC Tokyo hosted "Rocket Pitch Spring 2021" at the center in Toranomon Hills. "Rocket Pitch Night" is Venture Café's popular event series and always attract a huge turnout. This year's event drew more than 800 people, including 600 online viewers, who watched 75 startups in five different business categories showcase their innovations, making the event one of the largest of its kind in Japan.
Serving as judges were a panel of 19 industry experts, who provided insightful feedback and advice for presenters.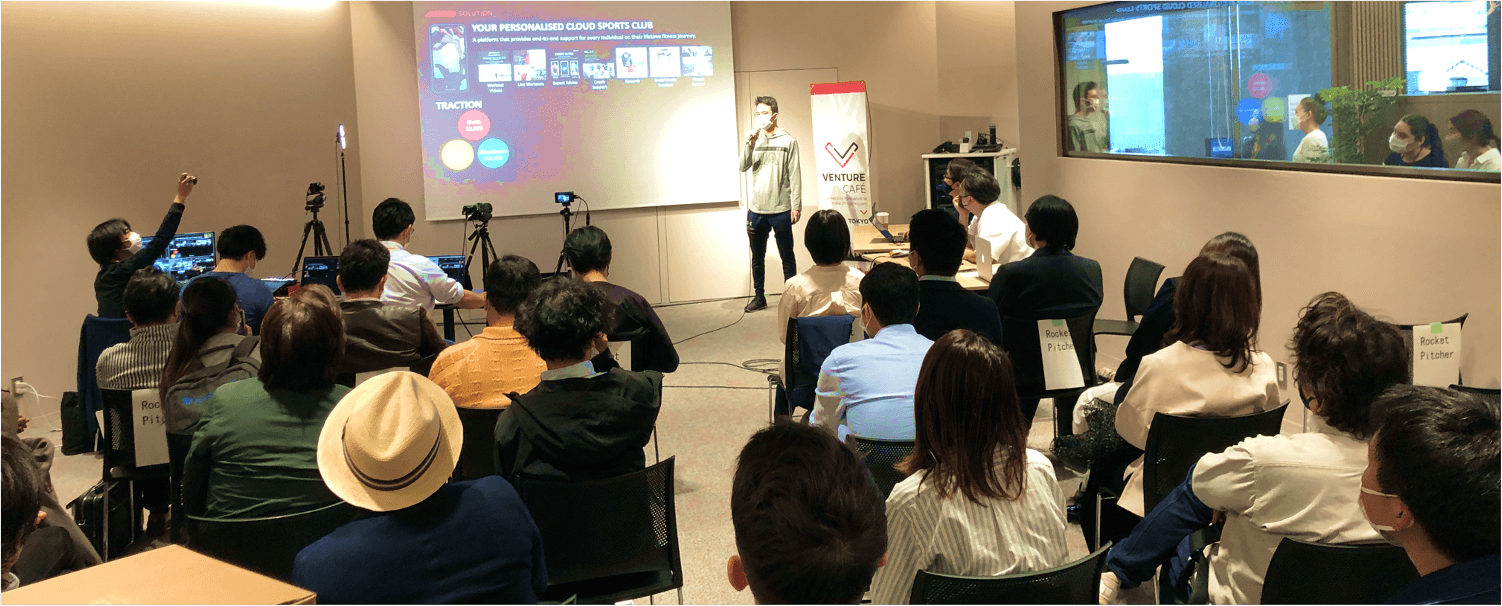 We had about 200 of the audience members gathering at CIC Tokyo. To ensure their safety, we took all possible measures to prevent infections, including body temperature checks, distribution of hand sanitizer and the requirement to wear a mask. We also made sure the size of the event space was more than adequate for the number of people attending.
The networking event following the pitches was also a big success, with many participants expressing their excitement for attending a large in-person gathering for the first time in months. Some attendees also commented on how the energy of the crowd is palpable when people are actually meeting in person, face to face.
The presenters who received the most votes in each category were rewarded with a pass to use the coworking space at CIC Tokyo free of charge for six months. We congratulate all the winners!!
The winners were:
The 75 presenting companies and their products/missions were as follows:
Onsite Pitches
<Work Productivity & Lifestyle>
Sensia Technology: "Fabric Speaker"
InnoScouter: Open innovation support platform
TENKODO: Pet carpets made of future materials
ICS-net: DX of B2B transactions for the food manufacturing industry to reduce food waste
Calbee: Helping factor workers refresh themselves
ELXR: A platform that provides end-to-end support for every individual on their lifetime fitness journey
CacaoShares: The blockchain for traceability and availability issues around Venezuelan Cacao industry
gugu Sleep Company: A direct-to-consumer (DTC) online "sleep company"
<Deep Tech>
Mitsubishi Electric: Understanding city winds to solve related problems, such as drone safety and heat islands.
Cutieroid Project: Production of animation entertainment featuring autonomous humanoid idols
AONBARR: Sourcing new energy from marine magnesium
A.L.I. Technologies Energy Solutions: Cloud service for corporations to calculate and keep record of their CO2 footprint and to present the results in visual formats
flaspo
ExtenD: Diamond for innovative future. Advancing the material for expanded use, namely super-functional electronics.
Sagri: Combining satellite data with AI and grid imaging technology to solve agricultural and environmental problems
Orbspace: Small reusable rocket, Infinity, designed for human suborbital space flight
<Medical & Healthcare>
CIAN: Preventing mental frailty. A "rickshaw for virtual tours" designed as a tool to improve mental health.
The GHP: Enabling orthopedic surgery patients to provide all rehabilitation services online
Arcurio: Service that helps seniors improve self-efficacy through walking
Risk Management Technologies: A system designed to listen to a user talk for 5 seconds to assess their motivational level and display the result in a visual format (Question to CIC: Is this right?)
Pit-Step: A new Clubhouse program for group workout
Lea Bio: An application for providing care to pediatric patients of chronic diseases in developing countries
ZINE: Making cancer support centers accessible via internet
<Social & Education>
LIGHTz: A micro-broadcasting business promoting P2P (person to person) communications
Team En: A global platform that connects artists and arts
An-Nahal: Multicultural collaboration workshops for developing skills and mindset for making the most of differences
WTOC: The "Around-the-world tour from within a classroom!" project, which connects classrooms in Japan and elsewhere in the world to enable students to exchange ideas
Tayo: Global recruitment platform for the academia
Takuo Sato: Will assist table tennis players transition to a second career!
Yukiko Ueno: Online Open-air Class for Generation XYZ
<IT, AI, IoT, AR & VR>
Privacy by Design Lab: Fostering a data ethics culture to enhance online users' ability to make their own decisions
Dream Drive: Promoting "van life" in Japan by offering vehicles with small rooms atop, for rent or ownership, as a new way to travel, live and work
LOOVIC: A new sensory guidance service that helps users avoid getting lost or losing their belongings
Pyull: An AI parrot that learns from listening to conversations around it and talks to entertain you
WARPE: An XR business that makes it possible to experience metaverse with your own naked eyes
AironWorks: A service to protect against cyber-attacks on employees
Masentic, Inc.: A market platform for professional soccer players
THANK WASIKA COMPANY: Operating an e-commerce site for venison to encourage people to eat deer meat for the betterment of their health and forest environment
Hendrik Bierwirth: Real estate private equity investment platform
Online Pitches 
<Deep Tech>
Materials Innovation Tsukuba: Changing the world by developing a novel graphene composite material that enables devices to be recharged in seconds
Aichi University of the Arts: Designing "swan," an ecosystem for urban renewal that purifies sludges under the water as people enjoy living on the water
Mori Building Company: Protecting city living from the danger of drones
Kisui TECH: Providing AI robotics and space technology to farmers across Japan, starting with apple farmers in the Tohoku area
Seranova KK: Drone services company based in Japan, whose mission is to make the Japanese drone ecosystem globally competitive
Umi-Hotaru: We tap into Nature's open-source code to create cheaper, better and cleaner materials for OLED
EF POLYMER: We are converting bio-waste into fertilizer for sustainable agriculture to solve the global agricultural problems
Floatmeal: We are growing next generation superfood called duckweed for filling the market gap of vegan/ vegetarian green protein supplement
<Social & Education>
STORYTIME: Parenting support service that nurtures non-cognitive skills in children with the use of craft kits that only take kids 15 minutes to make
Minabe Co., Ltd.: "Honaito," the Nagoya nursery practicing tender and easy childcare. We are revolutionizing the work of childcare workers!
DataCast: We aim to develop evidence-based support campaigns for nonprofits and other organizations by analyzing their unused data on their behalf!
Hitomi Masuo: LIFE DESIGN that enables you to explore yourself by tapping into your five senses and left brain and practice it with your friends.
Arina Hatate: Creating a company that makes a gender-equal society a reality
GoldTrash: Give away your unused items and get a small gift from the receivers
<Work Productivity & Lifestyle>
LTB Live to Business: AI and algorithm-based job matching SaaS that analyzes resident card images
yocto Co., Ltd.: Providing yoga mats that connect to the internet and related services
ignArt: Web applications that promotes self-expression and understanding of others to enable better self-monitoring and communications
Tokimeki Laundry: Washer-sharing service that connects people who have laundry needs and those who can do the laundry
Calbee: D2C service for creating foods that are optimized for individual needs
Foodealist: Ultimate vegan ice cream that can diversify people's diet!
HUKUNOU: Promoting agriculture as a new way of life and as a side business to build a financially securer future
<IT, AI, IoT, AR & VR>
Archain: Open Book Logistics
Cellid: Distribution of display modules for AR glasses
Rei Waseda: Automation of simple voice editing tasks
Gold Key Co., Ltd.: A platform app for efficient apartment management and maintenance services
Gthnooze: "muuv," a cloud service for improving team performance in the era of "new normal"
Crowdsy: AI-powered Crowd Monitor that provides an automated measurement of crowds by analyzing the live feed of video cameras with Computer Vision techniques
ITD-GBS Tokyo: An IoT, Edge, Cloud and Intranet solution for an easy-to-manage, secure and decentralized office network
<Medical & Healthcare>
Ambi: A multi-language system that makes medical care accessible to all, leaving no one behind
Rubans: An online matching platform that connects mothers and pregnancy, delivery and parenting experts who can support them
Well-being station:  New senior housing with services that tenants can mix and match based on their personal likings
Lumirous Sdn Bhd: A matching platform that connects fertility coaches and their clients
BioLabs Global: Expanding life-science shared innovation communities, connecting Japan to the US 🡪 Connecting the innovation ecosystems for life sciences in Japan and the U.S.
Techmo: Voice entertainment and health questionary for elder people 🡪 A senior health product that uses a voice character
SAGE-SENTINEL: Mimicking the physiological visual system, our solution predicts the onset of the fall in elderly individuals then engages in prevention 🡪 With functionality that mimics that of human eyes, our system is capable of "seeing" physical problems in elderly individuals that can lead to a fall and preventing it.

Venture Café's weekly series, Thursday Gathering, will resume onsite events starting next week. Please register here to attend the events. We look forward to seeing you all!