Announcement
On May 15 and 16, CIC Tokyo served as one of the Japanese sites hosting "The 2nd Scienc-ome XR Innovation Hub: Discovering and growing seeds of collaborative cross-border research and businesses." Jointly organized by two academic researchers' associations – Anti-disciplinary Science Group in Keio (ASG-Keio) and United Japanese Researchers Around the World (UJA) – the "cross-reality" (XR) hackathon and science forum brought together Japanese-speaking scientists from around the world by merging virtual gatherings with in-person activities that were broadcast live from multiple sites.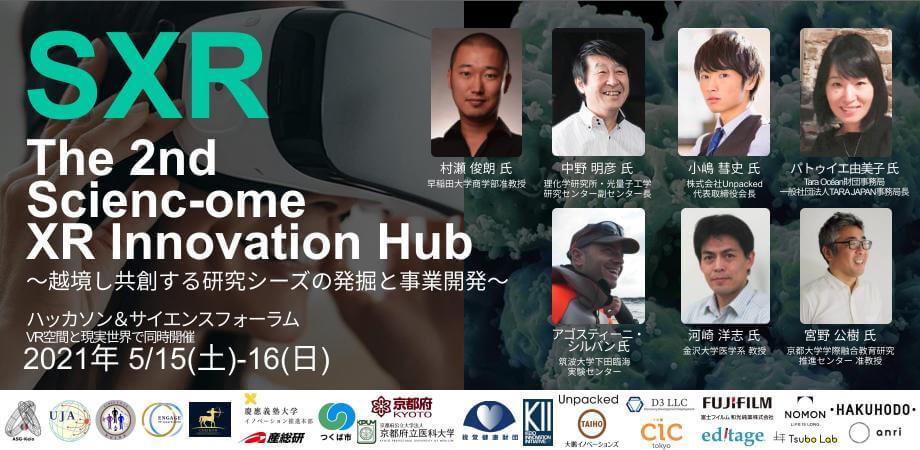 A total 800 people across the globe tuned into the hackathon and participated in lively discussions at the forum, all of which were broadcast live over Zoom and YouTube over the course of two days. The hackathon took place at CIC Tokyo and Tsukuba Science Park, drawing 95 participants (12 teams of six to eight), including researchers working globally as well as many high school students.  
The XR event was a joint labor of love of ASG-Keio, which promotes exchanges of ideas among early-career researchers across organizational boundaries, and UJA, which connects Japanese-speaking researchers worldwide across national and disciplinary boundaries. Early-career researchers from these groups had been organizing various activities that are free of any of the boundaries that often keep researchers apart – be it their physical locations, academic disciplines, organizations to which they belong, or career stages – and to fill the physical and emotional voids created by the pandemic-related restrictions. 
Their effort culminated in a large turnout of enthusiastic participants for the 2nd Scienc-ome XR Innovation Hub, setting a new meeting model and proving the potential of XR technology as a tool to make it happen. 
In the hackathon, the teams gathered in the virtual space to draft a research plan for each of the 12 topics, and created an abstract describing objectives, methods and expected results. They then gave a five-minute presentation, doing their best to tout their projects as the "seeds" of unique business opportunities. The presenters manipulated their on-screen avatars – and "flew" them in some cases – to demonstrate their ideas designed to transcend the concepts of time and physical space. 
The themes ranged widely, including femtech, digital healthcare, DX in education, cyborgs, pandemic-resistant society, and food of future. Some creative ideas were also presented, such as "designs for immortality" and "making cancer cells useful through genetic guidance." 

The forum began with a talk by Prof. Toshiaki Murase of Waseda University on "Building a team that can create new value," followed by many lectures on the topic of pioneering new research fields, including intercellular imaging as well as the integration of art and education. 

The event attracted diverse age groups with participants spread evenly from teenagers on up through those in their 40s. More than 70 percent of these participants had the experience of studying or working abroad. 
(Charts)
How old are you? 
Teens or below

20s

30s

40s

50s

70s and above 
Tell us your experience abroad.
Have worked abroad (one year or more) 

Have worked abroad (less than a year)

Have studied abroad (one year or more)

Have studied abroad (less than a year)

No experience of studying or working abroad

The participants' overall satisfaction was extremely high. For example, 95 percent of the participants responded positively to the question: "Do you intend to share the information about the hackathon in which your participated, including what the participants accomplished, with those who did not attend the event?" 
(Chart)
Do you intend to share information about the hackathon in which you participated, including what the participants accomplished, with those who did not attend the event?
Not likely

No 

Yes

Somewhat likely

Not sure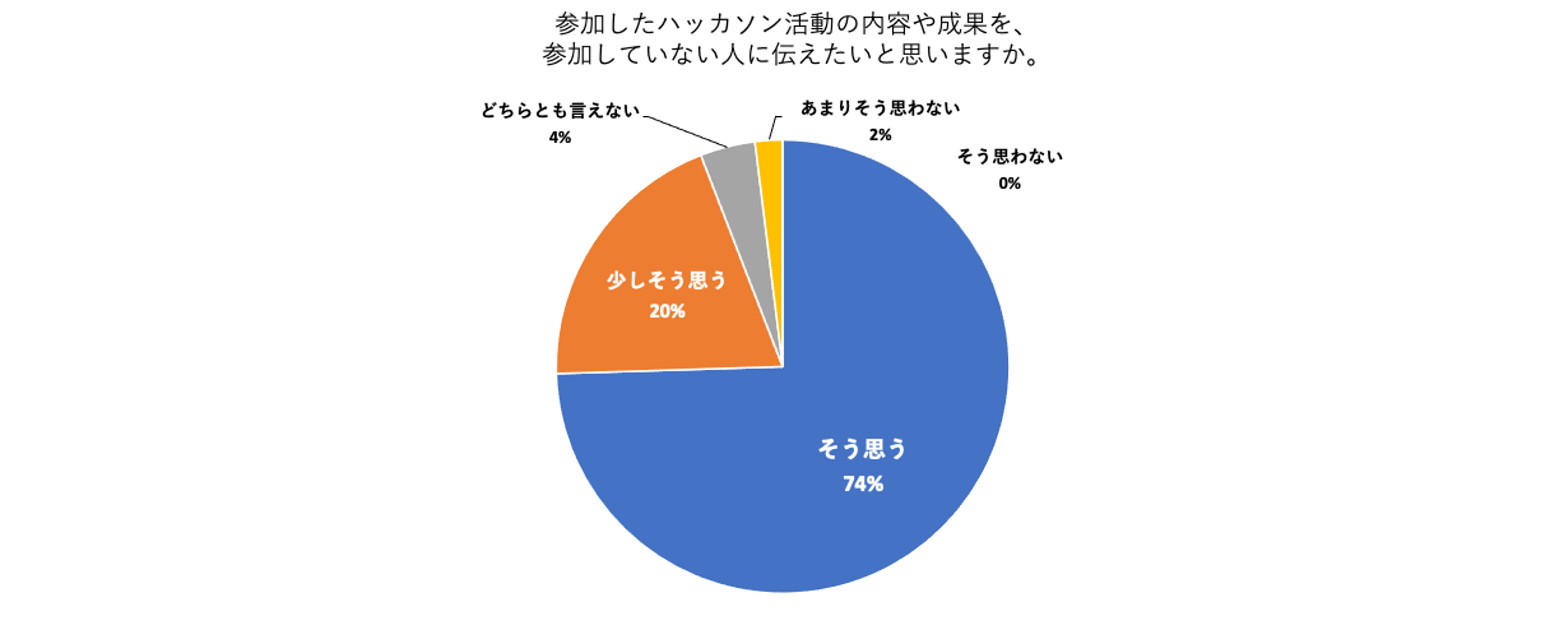 The 2nd hackathon and forum was made possible by the sponsorship from the following companies and organizations: 
Taiho Innovations, LLC

D3 LLC

NOMON Co., Ltd.

Tsubota Laboratory Inc. 

Taiho Pharmaceutical Co., Ltd.

HAKUHODO Inc.

Keio Innovation Initiative Inc. 

ANRI
We will be seeking sponsors again for our next Scienc-ome XR Innovation Hub. If you are interested in sponsorship, please contact Japan X(R) the Venue's office at info@japanxr-science-forum.org. 
Event program
May 15 (Sat)
9:00-9:35    Opening & hackathon orientation 
9:35-10:00   Talk: "Building a team that create new value"  
  Dr. Toshiaki Murase, Waseda University 
10:00-12:40   Hackathon Day 1
13:00-13:25   Afternoon session opening 
13:25-14:00   Lecture 1: "Ultimate intercellular imaging" 
Dr. Akihiko Nakano, Deputy Director of RIKEN Center        for Advanced Photonics
14:00-14:20   Lecture 2: "The potential of the junior high/high school student   market and the future of education and training: Expansion of comprehensive entrance exams and required skills" 
   Dr. Keishi Kojima, CEO of Unpacked 
14:30-15:05   Lecture 3: "Communicating the state of marine environment through a fusion of science, art and education" 
  Ms. Yumiko Patouillet. Tara Ocean Foundation
  Dr. Agostini Sylvain, Shimoda Marine Research Center, University of Tsukuba 
15:05-15:25   Lecture 4: "Why your brain won't quit" 
  Prof. Hiroshi Kawasaki, Graduate School of Medicine, Kanagawa University 
15:25-16:00   Lecture 5: "Question questions" 
  Assoc. Prof. Naoki Miyanoa, Center for the Promotion of Interdisciplinary Education and Research
May 16 (Sun) 
8:00-10:30   Hackathon Day 2
10:30-12:00   Hackathon presentations 
12:00-13:00   Award ceremony
  Closing
Organizers
Anti-disciplinary Science Group in Keio (ASG-Keio)

United Japanese Researchers Around the World (UJA) – U.S. 501 (c)(3)
Cohosts
Boston:
Chicago:
Northwestern University Japanese Researchers Association (NUJRA) 
Los Angeles: 
Southern California Japanese Scholars Forum (SCJSF) 
Tokyo: 
Office for Open Innovation, Keio University 

The Clinical and Translational Research Center, Keio University

CIC Tokyo
Kyoto: 
The City of Kyoto

Kyoto Prefectural University of Medicine 
Sponsors
Embassy of Japan in the United States of America 

Tokyo Metropolitan Government 

City of Tsukuba 

National Research and Development, Japan Science and Technology Agency headquarters

(JST)




Interdisciplinary Integration Taskforce, Research University Consortium (RUC)

The National Institute of Advanced Industrial Science and Technology (AIST)

Kyoto University Research Administration Office (KURA) 

Innovation Design Platform (idP), Public Foundation of Kasai Research Institute
Cooperation
"Empowering Next Generation Allergist/Immunologist Toward Global Excellence Task Force Toward 2030" (ENGAGE-TF), the Ministry of Health, Labour and Welfare 

XPLANE

Nara Institute of Science and Technology

Kansai University 
XR Partner
Microsoft Project Users Forum (MPUF)

MediProduce, Inc. 
SDG Partner
About CIC Tokyo
CIC Tokyo is one of the largest innovation centers in Japan. It opened its doors on Oct. 1, 2020, in Toranomon Hills Business Tower, providing a total of 6,000 square meters of coworking and shared office space on the tower's 15th and 16th floors, which can accommodate more than 250 companies and organizations. CIC Tokyo offers more than workspace, however; it also serves as an innovation community with a focus on startups, providing all the support that companies need to grow their businesses and accelerate their global expansion. Being located at CIC enables startups to access this innovation ecosystem and build meaningful relationships with its key players.
https://jp.cic.com/
About Anti-disciplinary Science Group in Keio (ASG-Keio)
Anti-disciplinary Science Group in Keio (ASG-Keio) is a community of early-career researchers with a wide range of expertise who are interested in exchanging ideas free of organizational boundaries. As Dr. Ryoji Noyoji, a recipient of a Nobel Prize in chemistry, once famously said, we believe that scientists of today should seek to eliminate disciplinary boundaries (the mindset which Dr. Noyoji described as "anti-disciplinary"), rather than pursuing disciplinary collaborations, in order to further advance science. Even while engaging in our daily work as medical doctors and researchers, we would always keep in mind the importance of cross-specialty and cross-disciplinary collaborations. Six members who share this philosophy came together in 2017 to establish a study group of early-career researchers at Keio University's Shinanomachi campus and began organizing activities under the name of the Interdisciplinary Science Group in Keio (ISG-Keio). 
URL: https://sites.google.com/keio.jp/asg/
(Scienc-ome: https://www.scienc-ome.com/ )
Director of Board: Motoshi Hayano 
Literal translation of Dr. Noyoji's quote (The quote is partially omitted by the association) 
"In the environment of modern civilization… scientists should take action to eliminate academic and disciplinary boundaries ('anti-disciplinary' actions), rather than pursuing intradisciplinary cooperation, in order to further advance science." 
About United Japanese Researchers Around the World (UJA) 
United Japanese Researchers Around the World (UJA) is a global network of 6,000 researchers from Japan. The group envisions fostering the wellbeing of researchers through making it easier for them to find each other and access a support network, so that all researchers from Japan can focus even more on their projects to advance science. In order to fulfill this vision, UJA works on the following three missions: 
Establishing a point of contact to provide those considering studying abroad with necessary information and support

Promoting mutual support and identifying career paths to further succeed in Japan and globally

Actively seeking information exchange and collaboration with educational, scientific and technological public agencies 
Executive Director of Board: Takeya Adachi